Heck yeah!
Traditionally, project methods and project tools do one of two things. They either are made for the start and end of a project (i.e., PMI PMBOK and Microsoft Project-like tools, or they are made only for the middle part of the project they are iterating through sprints (i.e., Agile Scrum Methods, and Trello or JIRA-like tools).
Today, we introduce a hybrid solution that covers the full project, including the beginning, the middle, and the end. Welcome to the new —
IIL Agile & Process Solution
Pie may be the first tool in the market to combine both process and agile features in the same project. This gives you the power to drive steps that you know are needed while also providing agile for iterative thinking and continuous deployment.
Pie is also designed to give you the option for a pure process project where all known steps are defined in advanced or pure agile for never-ending product iterations. But a true hybrid of agile and process mixed together brings the best of both worlds as shown below.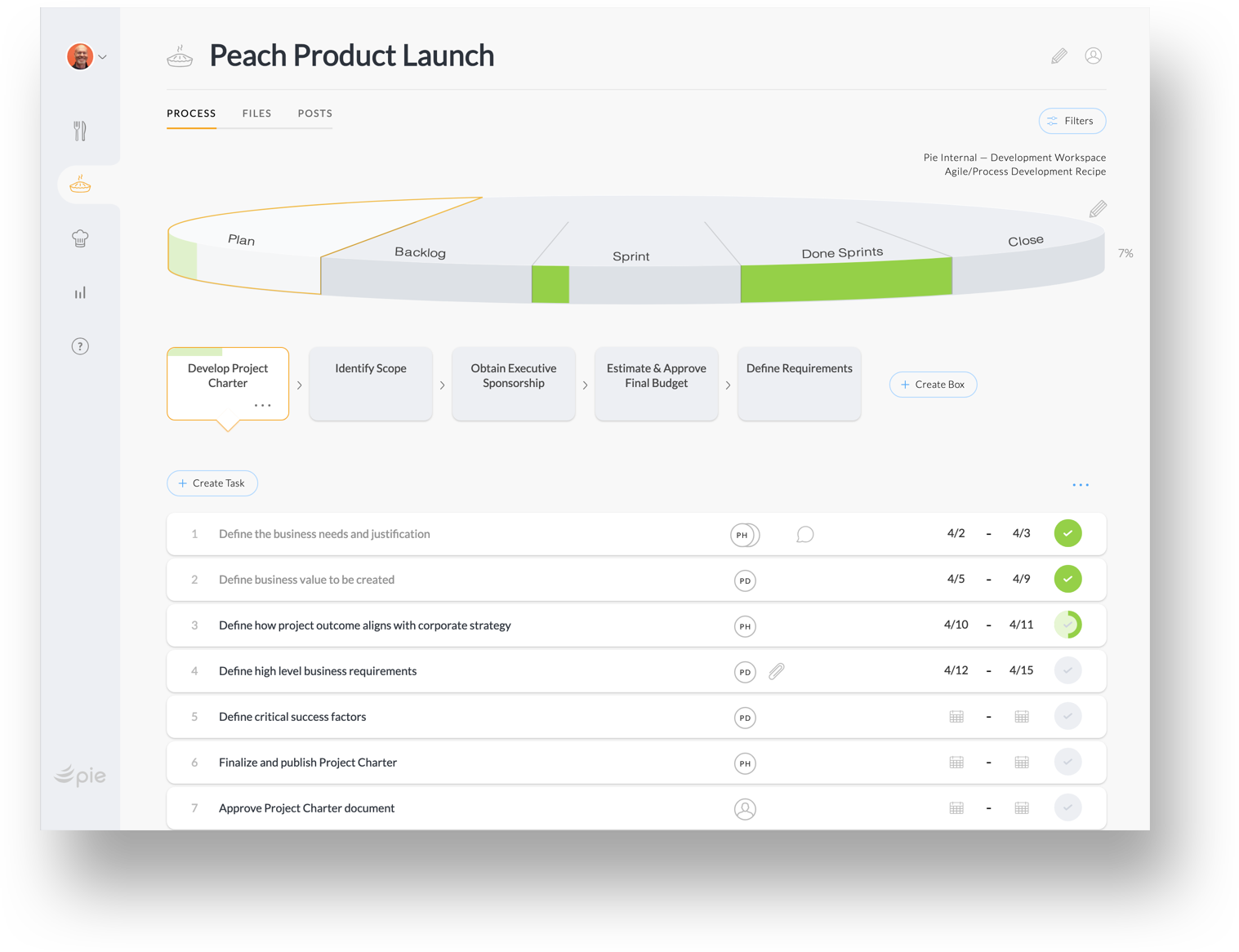 1) Start with planning process.
Your known project processes (your framework), can wrap your sprints from both ends. The starting and ending project processes (as shown in Plan and Close in the image) contain your steps that were pre-defined from lessons learned and best practices. Now you have agile working in tandem with process.
2) Fill with agile sprints.
Your agile team can set up backlog stories in a backlog pie slice and then drive weekly sprints in the Pie board sprint slice (as shown here). Once a sprint is done and deployed, Pie auto moves your stories to the Done Sprints slice to stay cool as reference. Then iterate again, and again.
Meanwhile, your project end-client is getting small bites along the way. Yum!
3) Wrap up with closing process.
Your sweet pie ends with a close out slice with pre-defined how-to steps that finalize delivery happiness.
For example, we know in advance that a process step includes sitting down to review all lessons learned throughout the project, and what to do to improve the next process/agile project kicking off next month. Delicious!